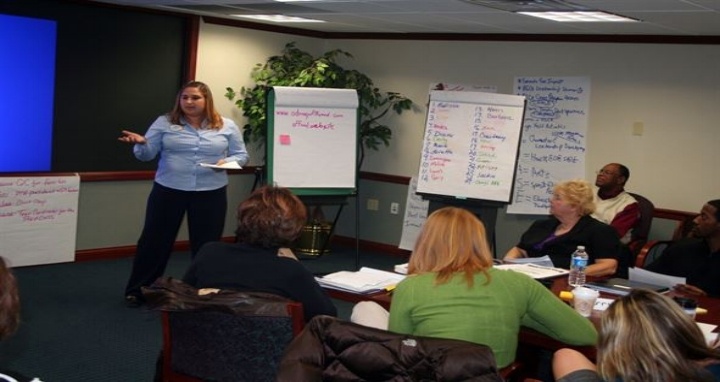 Photos, sound files and video clips are always great ways to liven up great presentations. For people creating training content, there's an added bonus: adding media also helps boost retention. A few quick examples:
Photos. A retail clerk needs to categorize items rung up at the point of sale — photos of the inventory aid in product recognition.
Video. A health care worker needs to perform a multi-step procedure exactly the same way every time — a video shows how it's done.
Audio. Trainees at a call center must provide consistent answers to common questions — sound clips demonstrate the proper language.
.
1. First, a Few Ground Rules
Before adding big media files, think about whether you really need them. Most embedded media increase the computing power required to view the presentation — often without adding value to the presentation. If your audience is running on older, slower hardware, try keeping media files to a minimum — pictures might be worth 1000 words, but can just as easily suck up hundreds of megabytes. PowerPoint varies more than most software programs across versions and platforms, so the instructions below are deliberately generalized so as to be applicable to everyone.
2. Adding Images
To create a new slide containing a picture, select the New Slide command from the Insert menu. Some prefer a blank slide pre-formatted for 'Picture with caption' (right click to reveal the various slide layout themes), but photos can be added easily to any slide type.
Once you have the correct slide, go to the Insert menu and select Picture (this is a perfect time to use the thumbnail display option for menus). Browse for the image you want, and then select it. The photo may not be the size you want at first; adjust it by grabbing any of the corners and dragging until you're satisfied. Don't adjust from the side — that is, unless squishing the image along one axis is the look you are going for.
Keep resolution consistent by selecting the Compress Pictures command from the Picture Tools format menu. A resolution of 150 dpi (dots per inch) is ideal. Make sure the box labeled "apply to selected pictures only" is unchecked.
3. Use An Easy Web Imagine Library
Photo tip (above): Even when lacking photos of your own, amateur repositories like Snapfish and Flickr can be great sources of free images. Always contact the owner for permission.
4. Adding Audio
PowerPoint makes it easy to add sound from a number of sources: a saved file, a CD, even recorded directly into the presentation. One caution: Published content from your favorite artist is fine for your personal Christmas video, but dropping your favorite track into a corporate presentation could attract a nastygram from lawyers for the record industry. Be smart about not getting sued for misusing licensed content: Get permission, pay for rights, or look for content published under a Creative Commons license.
From the Insert menu select Insert Sound, and then use the menus to find the file. If you are importing from a CD, this is the point when PowerPoint will let you narrow your clip to just a portion of a song, right down to hundredths of a second. Use the preview command and adjust your sample until it's just right.
PowerPoint will ask if you'd like sound files to play automatically when the slide changes over, though consider choosing manual playback. Also, if you don't like the default PowerPoint icon for sound, don't worry. Mindflash will hide it once uploaded.
Audio tip: Embedded sound clips offer a shortcut for helping English language learners. Just have your translator use the Insert Sound command, choose the Record sound option, and then read aloud from whichever pages merit translating. You'll save money compared to full-blown content localization services.
5. Adding Video
Not surprisingly, adding video is more challenging than adding sound or photos. The best formats for video playback in PowerPoint are AVI or WMV, which are among the defaults for most video recorders. PowerPoint is also compatible with MPEG, but there's a higher chance of something not working right on the viewer's end. Play it safe and stick with those first two.
You may have to convert – downloadable shareware and freeware converters are plentiful – particularly if your content was recorded on a smartphone with a proprietary format. Content on YouTube — though it can be embedded here — must also be converted from their unique formats before import into PowerPoint.
Beyond that, the process for uploading video to your presentation is very much like the process for photos: Go to the Insert menu and select the Insert movie command. After selecting the video to upload, the Movie Tools menu offers many ways to customize how it is displayed.
It's intended for educators but there are topics that cross-over for trainers.